How to get to Koh Larn
Known as the closest island in Thailand, Koh Larn is 3.5-4 hours by car and ferry or speed boat from Bangkok. This beautiful island is famous for lots of nice beaches and activities such as parasailing, jet ski, parachuting, banana boats, etc.
There is no direct way from Bangkok to Koh Larn, you need to take a bus, or minivan to Pattaya, then take a ferry or speed boat from Pattaya to Koh Larn.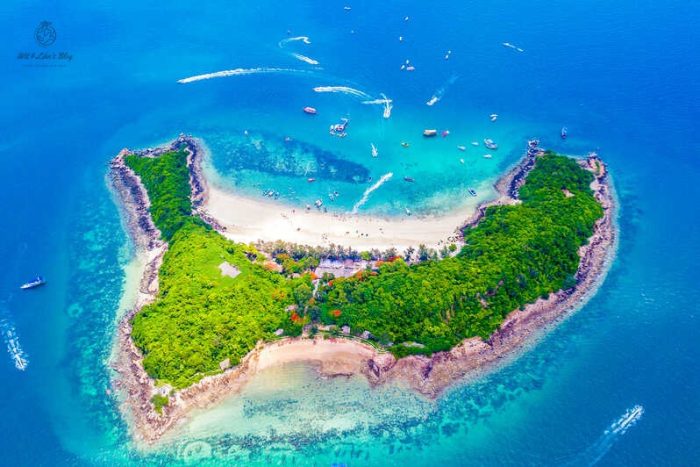 From Bangkok to Pattaya
If you stay in Bangkok, you can just go straight to Mo Chit bus station or Ekkamai bus station. Entering the stations, you can ask for the bus or minivan to Koh Larn, people here will show you the exact bus to the pier to get to Koh Larn. The price is around 150 THB/pax/way. From the drop-off area, you can walk to the pier to take a ferry or a speed boat.
From Pattaya to Koh Larn
There are two piers in Koh Larn named Na Ban Port which is close to the residential area and Tawaen Port which is close to Tawaen Beach. You can either choose speed boats or slow boats
Whichever ports you arrive at, you can easily find transportation to your hotels or homestays with the price start from 50 THB depending on the distance from the port to your accommodation. Don't forget to have a look at your accommodation on the map to choose the close pier to arrive.
Slow boats normally take you 40-45 mins to reach the island with the price of 30 THB/way, while speed boats take you 15-20 mins instead with the price of 200 THB/way from Bali Hai Pier, Pattaya.  The slow boat is like a relaxing cruise across the sea, but the speed boat is really rough and adventurous.
If you are seasick, it is highly recommended to take the speed boat. The price is higher, but you definitely get what you pay for.
Always remember to ask the people around the pier to choose the right boat. For me, they are really honest and helpful. There's almost no scam in this area and that's why I really love it.
Koh Larn Ferry Schedule
You can take a ferry or a speed boat anytime you arrive in Pattaya, but make sure that you may not arrive later than 18:30 to avoid missing the last ferry to this island.
Below is the Koh Larn Ferry Schedule:
| | |
| --- | --- |
| From Pattaya > Na Ban Pier | From Na Ban Pier > Pattaya |
| 7:00 | 6:30 |
| 10:00 | 7:30 |
| 12:00 | 9:30 |
| 14:00 | 12:00 |
| 15:30 | 14:00 |
| 17:00 | 15:30 |
| 18:30 | 16:00 |
| | 17:00 |
| | 18:00 |
| | |
| --- | --- |
| From Pattaya > Tawaen Pier | From Tawaen Pier > Pattaya |
| 8:00 | 13:00 |
| 9:00 | 14:00 |
| 11:00 | 15:00 |
| 13:00 | 16:00 |
| | 17:00 |
Check it out for more topics in Koh Larn: