Thai currency you should know to plan your Thailand trip budget
When you want to travel to Thailand, getting to know the Thai currency is very important because it helps you to plan your travel budget. Also, knowing the Thai currency will make your shopping and purchasing much easier. In this post, we will share with you the necessary details about Thai currency and provide you with some tips to plan your Thailand travel budget.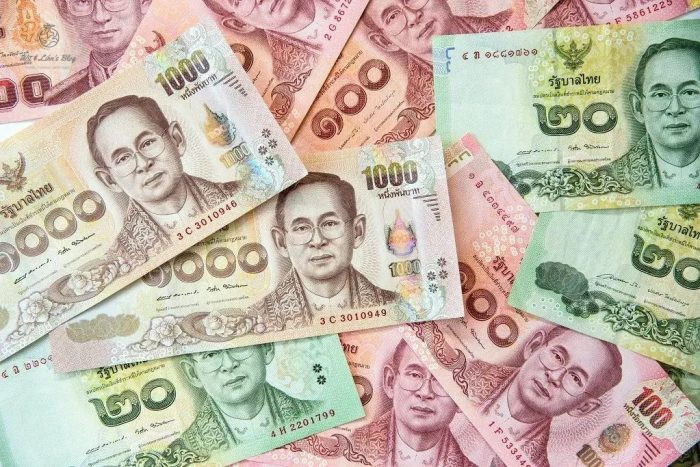 General information about Thai currency
Thai currency includes 2 main types which are coins and banknotes. The currency unit is baht (บาท) with ISO 4217 code as THB. One baht equals to 100 satang. The Bank of Thailand is directly in charge of printing and issuing banknotes in Thailand for circulation.
Banknotes in Thai currency are divided into 5 par values: 20 Baht, 50 Baht, 100 Baht, 500 Baht, and 1000 Baht.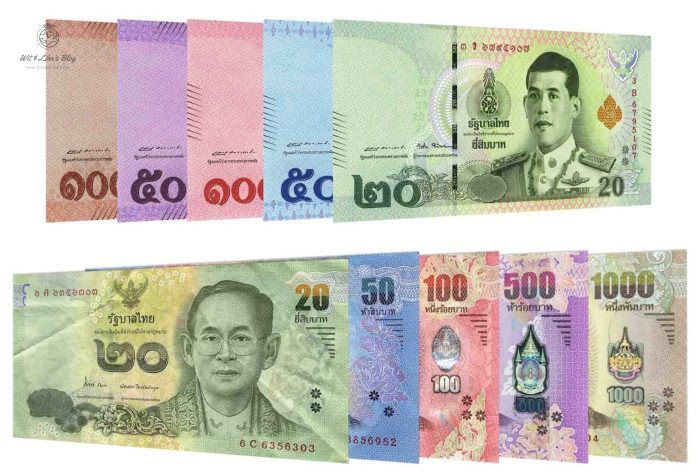 20 Baht is the smallest banknote with the main color of light green. It is followed by 50 Baht with the signature color of light blue. 100 Baht is issued in red, while 500 Baht has a purple color. 1000 Baht is the biggest banknote and it has a light brown color.
The King's image is printed on the banknote, so you can see that 1 same banknote may have different King's images on it.
Coins in Thai currency include 1 Satang, 5 Satangs 10 Satangs, 25 Satangs, 50 Satangs, 1 Baht, 2 Baht, 5 Baht, and 10 Baht respectively from the smallest to the biggest one. A coin with a value of less than 1 Baht is made from bronze. The coins 1 Baht, 2 Baht, and 5 Baht are made from silver, while the 10 baht are made from a mixture of bronze and silver.

What is the exchange rate of THB?
1 USD is equal to ~34 THB.
1 Euro is equal to ~ 36 THB
1 GBP is equal to ~42 THB
You can check more details and updated exchange rates here.
How much cash you can carry to Thailand?
You can carry as much money as you want to Thailand. There is no limitation regarding this. However, if you carry more than 20,000 USD or its foreign currency equivalent, you must report it to a Customer Officer on arrival. A passport and a boarding pass are required when you declare on the form.
If you enter Thailand via land/sea, you will need to have cash of or equivalent to 20,000 Baht per person or 40,000 Baht per family. And you are permitted to enter Thailand by these routes twice per year except for the countries of Malaysia, Brunei Darussalam, Indonesia, and Singapore.
If you enter Thailand via air, there is mostly no minimum amount of money you must carry. However, I highly recommend you to bring at least 2000 THB to use when you arrive to buy a SIM or necessities. If you don't have THB, you can exchange it at the airport too.
Additionally, you should bring some USD or EUR in cash, in case you meet a suspension check-up at the immigration. This will make the immigration know that you have enough money to use during the time you are in Thailand. To be honest, I have never encountered any suspension check-up before, but I saw one case before. There is a Vietnamese woman who entered Thailand to visit her friend. She was rejected at the immigration and got the remark "Don't have enough money" in her passport.
Of course, this hardly happens, but we should prepare for the worst situation just in case.
How much money do you need per day in Thailand?
Well, depending on the traveling style, the money spent will be different. If you are a backpacker, the daily average is around 40 USD including accommodation, transportation, food, and some attraction with fair/cheap tickets.
If you want to visit all attractions and try some chilling activities like getting a Thai massage and trying some drinks in a rooftop bar sometimes, you can expect an average daily expense of 100 USD.
In case you are into a luxury holiday in Thailand having a guided tour, staying in a 5-star hotel, or enjoying a spa treatment, 400 USD per day is possibly affordable.
From my experience, I had the best trip when I mix the aforementioned traveling types, and it cost me around 250 THB per day on average. It's good to get a luxury vacation for 1 or 2 days anyway.
Where to exchange money in Thailand?
You can exchange money at a kiosk like Super Rich or at a bank branch. The later option will offer a bit beeter exchange rate.
Check it out for more topics when travelling to Thailand: