Bangkok travel guide
As a newbie or a traveler in Bangkok, you may not avoid traveling here and there or find someplace to eat, drink, or entertain. Life in Bangkok is not expensive in comparison with other cities in South East Asia; however, it's good to grab some survival tips just to have some savings for your future plans or save money for your trip and your life.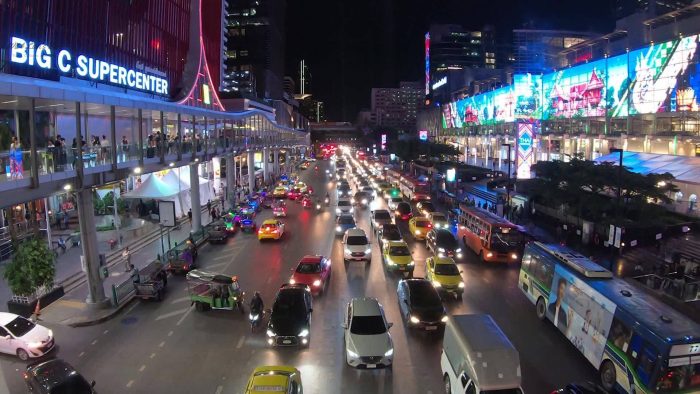 Arriving at the airport
There are two international airports in Bangkok are Suvarnabhumi and Donmuang. There are 2 important things that you need to pay attention to:
Make sure you fill in the departure card on the plane and keep it until your passport is stamped with the tourist visa, so you will not waste your time once you arrive at the airport.
You may need cash for every type of transportation except for Airport Limousine, so make sure you exchange some money before you leave the airport. You should ask for some small bills to easily pay for taxis or trains. You can get better rates at "Super Rich" or Value Plus
Getting a Mobile Sim Cards
Besides money, getting a sim card is important too as you will need to use the Internet once you are out of the wifi area. It's easy to get a tourist sim card at the airport after you finish your immigration procedure. There are 3 main service providers: dtac, true, and AIS and you can register for an Internet package for 24 hours, 3 days, 7 days, or 30 days.  Normally, the sim card you buy also has some credit for the Internet. However, in case you need to register for more Internet packages, below are some syntaxes:
AIS
24 hours/ 32 THB: *777*620*235372#
7 days/120 THB: *777*7098*235372#
30 days/350 THB: *777*7153*235372#
TRUE
24 hours/ 22 THB: *900*8319*17407413#
7 days/ 89 THB: *900*8320*17407413#
30 days/300 THB:*900*8321*17407413#
DTAC
24 hours/ 29 THB: *104*377*6253277#
7 days/ 89 THB: *104*348*6253277#
30 days/330 THB: *104*379*6253277#
Moving to your accommodations.
There are 3 main means of transportation for you to move to your hotel
Public taxi: This is known as a Taxi meter and you will pay the fee basing on the distance from the airport to your property. The drivers only accept cash. When you get in the car, please make sure the meter is running and you can see the money cost. It may take you 350-400 THB estimated.
Train: This way of traveling seems to easily take if you land at Suvarnabhumi Airport. You can get the airport link train to Phyathai station of 45 THB, and then you can take another train to your accommodations. For Donmuang Airport, you may take a short taxi or motorbike taxi to get to the closet station.
Grab: Both taxis and motorbike taxis are available for this option on using your Grab app. The payment can be via card or cash. You can see the price before you make the booking. If your payment method is via a card that is not registered in Thai currency, a transaction fee can be expected.
Use public transport
You are able to find all kinds of transportation in Bangkok such as taxis, BTS, MRT, motorbike taxis, tuk-tuk, buses, etc. The first tip is to use public transportation because it is the cheapest way of traveling. Bangkok has its owns BTS and MRT train systems which are likely to bring you anywhere you want. The price is about 15 THB/station. The price will be much cheaper if you buy the trip package. Everything is ready at the ticket counter.
Also, you can try to take a bus with a reasonable price start from 0- 12 THB depending on the bus type – with or without air-conditioner, old or new. With this kind of transportation, make sure you have some researches on the bus number crossing by the place you want to visit.
Besides, you can consider taking the third type of transportation in Bangkok – motorbike taxis – the local one with an orange jacket and the technical one as Grab (my favorite one). If you travel in a short distance of less than 1km, the local motorbike seems to offer a cheaper price than Grab. Otherwise, book a ride on your Grab app. Please avoid setting your Grab pick-up point near the local motorbike area if you don't want to get in trouble.
Taxis and tuk-tuks are recommended once you travel with your friends, which can help to reduce your travel cost.
Finally, to save your traveling time, don't forget to research your area to find the best way of traveling.
Eat street food.
For me, Bangkok is like a heaven of food and drinks. You can see they sell food and drink on every street. It is not hard to grab something to eat and drink on the street or a convenient store like 7-11 with a reasonable price starting from 10 THB. 50 THB is a possible price for a meal with the street food.
Hope that you will enjoy your trip and your life here.
Cheers,
Lihn