12 fantastic things to do in Koh Chang
"What are the leisure things to do in Koh Chang?" could be your next question after how to get to Koh Chang and where to stay in Koh Chang. In this post, we will briefly give you some fantastic things to do in Koh Chang for you to choose among a plethora of activities that you can effortlessly search on the Internet.
1. Relax on Koh Chang beaches
Koh Chang is famous for many beautiful beaches, you can not go there without spending time on a beach. There are several beaches in Koh Chang including White Sand Beach, Kai Bae Beach, Lonely Beach, Klong Prao Beach, Klong Koi Beach, Wai Chaek Beach, Long Beach and etc…. Those beaches are mostly located on the west coast of the island and lie down to the southwest of the island. Depending on your accommodation, you can choose the closest beach to spend your day in.
We choose to stay near the White Sand Beach area because it is our favorite. This beach is loved by couples, families, and even backpacker travelers. It has plenty of bars and restaurants, so you can easily grab some food or drinks to chill on the beach.
Water sports such as jet skiing, SUP paddling, kayaking, and banana boating are available on those beaches for you to experience as well.
Another beach that we really like is Long Beach which is a bit far from White Sand Beach. Also, the road to Long Beach is winding and requires a skillful driver. However, coming to this place you are offered a hidden beach where you can swim or lie down for a whole day. There is a bar attached to this beach for you to order some food or drink if you want.
If you don't want a faraway area, Lonely beach or Klong Prao beach is a matching choice for you as well.
2. Enjoy the Koh Chang sunset
Most beaches in Koh Change are located on the west coast. As such they are perfect points to see the sunset, which is true to say enjoying the sunset is one of the fantastic things to do in Koh Chang.
White Sand Beach is our favorite place to view the sunset as we can easily grab a beer or some drink from nearby bars and restaurants.
3. Swimming in Khlong Phlu Water
Koh Chang is a mixture of beaches and forests, so it is famous for waterfalls as well. The most attractive waterfall is Khlong Phu Waterfall which is located in Moo Koh Chang National Part. The entrance fee is 200 THB/ person for foreigners. You may need to do a short trek to reach the place. Don't forget to prepare or swimsuit or additional clothes as you may get wet at the waterfall natural pool later.
Khlong Phlu Waterfall is famous for its clean and clear natural pool with many fish for you to swim or simply enjoy a fish massage. Additionally, the waterfall offers a breathtaking nice view for you to chill and a natural place for meditation if you would love to.
4. Snorkeling in Koh Chang
Except for beautiful beaches, Koh Chang is home to many types of fish and sea creatures due to its naturally nutrient-rich habitats. Along with this, there are many pristine coral reefs around the island for you to discover.
You can easily book a snorkeling trip with any travel agency on the island. The price is quite similar among them. I used to get a trip for 800 THB/ person including hotel pick-up, drop-off, boat trip to snorkeling island, lunch box with fruits, water, and snorkeling facility. Get this activity on your "things to do in Koh Chang" list and you will never regret it.
5. Exploring Salak Khok Fishing Village
Located at the south end of the island, Salak Khok Fishing Village is the top place for you to experience Thai culture to the fullest. This place is less touristic than other spots in Koh Change. Coming to Salak Khok village, you have a chance to watch the local living and working and enjoy the best seafood on the island here. You can either reach this island by a boar trip or drive there
Location: https://goo.gl/maps/LATRYe5yF52KKBUu5
You can take a boat trip to explore the peaceful mangrove forest and visit this village. This trip will take you to the most hidden area of the island with a duration of 40 mins and the price is 200 THB/ person.
6. Visiting Salak Phet Mangrove Forest Walkway
This is a 500-meter walkway in the middle of the Salak Phet Mangrove Forest. This walkway has 2 entrance points leading to the same location which is a stunning bay. You can find many beautiful scenes along the boardwalk to take photos or simply admire the beauty of nature.
You may need to be a bit careful by minding your head from inclining trees and damaged wooden planks. There is a car park next to the walkway; the price is 20 THB. Visiting this place is really worth it as one of the fantastic things to do in Koh Chang.
7. Kayaking
There are several small islands around Koh Chang as well as channels among mangrove forests. This creates the perfect environment for you to do kayaking. You can choose to paddle to Koh Man Nai and enjoy the less-crowded beach on this island as it is close to Lonely Beach. Otherwise, you can take a kayak trip to the Salak Khok Fishing Village to enjoy the mangrove forest vibe.
For us, we hire the Kayak from Floral I Talay hotel for 250 THB per hour and paddle out to a channel near SUP Amazon Koh Chang where you can see a lot of people trying to handle themself on their SUP board. We do this activity in the sunset and it is pretty chilling.
7. Chilling with Koh Chang nightlife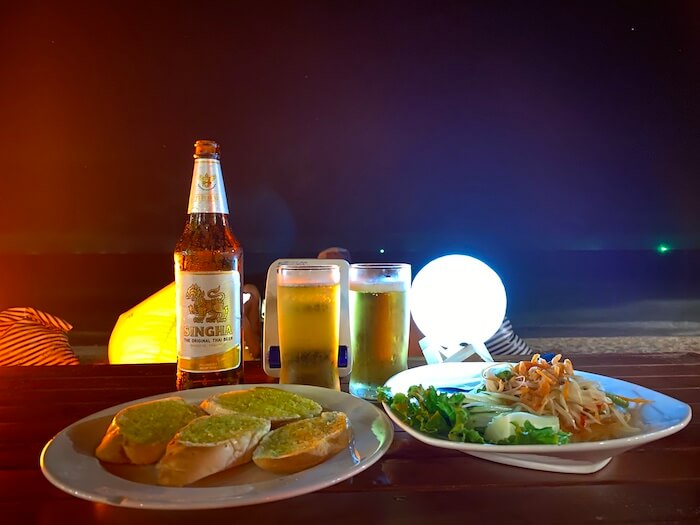 Despite the unpopularity relative to Koh Phangan or Phuket, the nightlife in Koh Chang is still worth a try. It is nothing better than a seafood grill buffet on the beach, then heading to a bar or restaurant for a cocktail and chilling with the music. White Sand Beach and Lonely Beach are two popular places due to their plethora of lively bars and nightclubs.
Plus, several restaurants and bars will have a fire performance which looks gorgeous.
9. Trying street food at Koh Chang Night Market
It will be a miss if you go to Koh Chang without taking some street food. You can easily find it in the Koh Chang night market. Located near White San Beach, the night market offers you a variety of food including fresh seafood, BBQ skewers, papaya salad, etc…The price in the night market will definitely surprise you as it is much cheaper than the one in a resort restaurant.
You can also find other goods such as clothes, swimsuits, and some souvenirs in this night market as well. Head to the night market when the sun goes down and you will definitely rate it as one of the must-try things to do in Koh Chang.
10. Trekking
Koh Chang offers many trekking spots all over the island for you to try. Nothing better than a day immerging in the forest before getting back lazily lying down on a beach or swimming. One of our favorite trekking trails is Khao Laem Mountain Trek which is located down the south of the island. The trek is about 3.5 km long, and the total trekking time is likely 2-3 hours. If you don't kike a long trek, a small trek/hike at Khlong Phlu waterfall may be worth a try.
11. Experiencing scuba diving in Koh Chang
Despite not being a typical diving place like Koh Tao or Koh Phi Phi, Koh Chang is still a good place to experience scuba diving due to its diverse sea life. There are 2 most popular places among amateur and professional divers: Koh Rang and Shipwreck.
Koh Rang is famous for its reef and thriving sea life. You can also do snorkeling in this area. Meanwhile, Shipwreck or HTMS Chang Wreck is a planned shipwreck for drivers. You can dive here if your current certification permits it.
12. Getting an island view from above
There are several viewpoints on Koh Chang offering you a nice view of the island from above. With its mixture of beautiful beaches and gorgeous blue water, rolling hills, and jungle, Koh Chang promises to give you an unforgettable scene.