Tips for a Floating house experience in Kanchanaburi
As I mentioned in Kanchanaburi 2 days 1 night on a floating house, if you want to experience Kanchanaburi in a local way, you'd better have a stay on a floating house. In this post, we will show you some important tips to enjoy your trip the most to Sinakarin Lake in Kanchanaburi.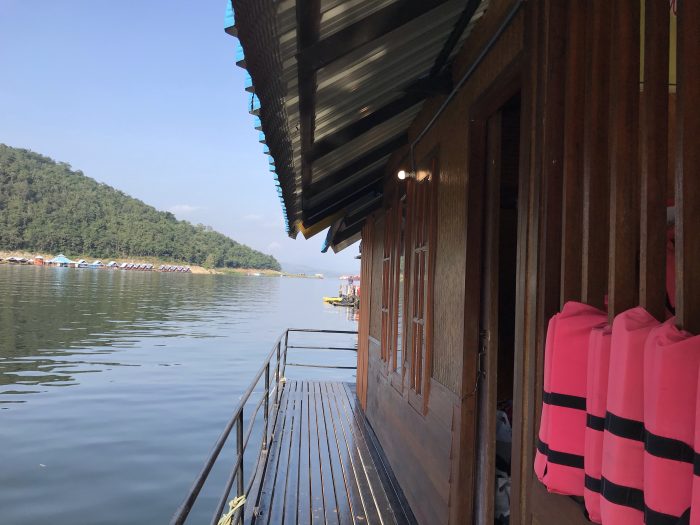 Not the same as other 4-5 star floating resorts, a floating house only provides you basic amenities such as bedrooms, a kitchen and kitchen stuff, chairs and tables, speakers, a manmade fridge (a lot of ice in storage), clean water for cooking, and water filtered from water in the lake for showering and washing. As a result, please make sure you follow the below checklist before you go:
Note: You can buy seasonings and other stuff before you get in the house and there are some vendors selling your necessary things, but I recommend you have everything ready from the start, so you don't forget anything and you can enjoy your trip to the fullest.
Food and Drink
You can prepare for a BBQ dinner because you have a stove and charcoal in the house. Make sure you have some:
Meats, seafood, and vegetables as your favor such as Shrimp and lobsters, Beef, Pork, Chicken, Pumpkin, Sweet Potatoes, Sweet basils, Chilies, Limes, and other favorites
Spices such as salt, sugar, pepper, and other BBQ sauces and dipping sauces
Snacks such as chips, cakes, cookies, etc…
Drink such as water, sodas, soft drinks, beers, or any kinds of your favorites
Fruits such as grapes, watermelons, etc…
Breakfast and Brunches for the next morning and noon as you will be in the lake
You can buy these in any supermarket such as Big C, Makro, Top Market, Tesco Lotus,…
Groceries
Bathing stuff: shampoo, shower gel, toothpaste, towels, handwashing gel, and whatever you need
Cleaning stuff:

dishwashing liquid, dishwasher sponge, toilet paper 🙂
Personal stuff
A jacket as it may be cold at night
Your own blanket and pillow if you are not familiar with these things in the house as (I guess) it's not regularly cleaned
Mosquito repellents as there are a lot of mosquitos in the area. I did not get bitten in our trip, but just want to remind you
Suncream since the sun is really hot there
Tanning cream if you want to tan your skin
Swimming glasses, swimsuits or bikini– I swear that you will need it when you swim in the lake
Other notes
Start to move to Sinakharin Lake from Kanchanaburi City before 2 PM because the road to the lake is winding, it's better to arrive at the lake before it's dark
Have all your stuff ready before you go, so you don't wash a lot of time to stop along the way
Prepare good music as the 4G does not work well in the area
Bring your own power banks in case you need to shut down the electricity generator to have a good night
Bring your earplugs to have a good night in case your electricity generator needs running during the night
With all the above information, we hope that you can have your trip well-prepared. Please share some of your experiences or feedback in the comments. This will help others have a more and more perfect trip.
For further information about the Kanchanaburi trip: